A service that makes life easier! 5àsec becomes your daily partner and takes care of your laundry!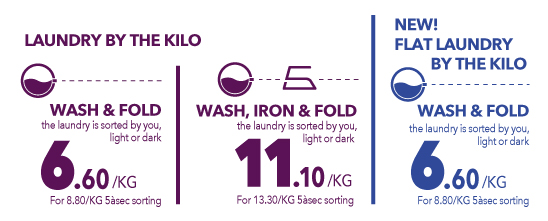 Once upon a time there was a magical offer … You could put masses of dirty laundry to be washed in a bag. Then you closed the bag, you went for a walk and when you got back, all the laundry had been washed, ironed and folded.
Who has never dreamed of a basket of dirty laundry being transformed into a pile of washed, ironed and folded laundry? It is no longer a dream or a fairy tale! Your 5àsec dry-cleaning service takes over the laundry-washing chore from start to finish.Try it, offer yourself this pleasure, you deserve it!
The laundry-by-the-kilo offer is ideal for all garments and articles that can be put away folded and do not need any special cleaning.
Terms of use
The price depends on who is sorting the items. If the customer does it himself, he gets a very low price. If 5àsec does it, the price per kilo is normal.
For the separation of colours (what to put in light or dark?): bright colours (fuschia, red, dark orange, royal blue, etc.) should be put in the dark linen, pastel colours in the light linen.
For each offer, a minimum of 3 kg is required / charged.
Laundry by the kilo 40°
Suitable only for clothes that can be stored folded and do not require prior stain removal, special cleaning (hand washing, dry cleaning, etc.) and additional treatment. Excluded items: shirts, blouses, stuffed items (duvets, pillows, comforters, etc.), furnishing textiles (curtains, carpets, etc.) and laundry (flat linen: table cloths, sheets, duvet covers, etc.).
Flat laundry by the kilo 60°
This service per kg does not include pre-stain removal, special cleaning, additional treatment and ironing. Authorised items: flat linen (tablecloths, sheets, duvet covers, etc.).
These offers are only available in the french part of Switzerland, excluded in La Chaux-de-Fonds, Vevey and La Gottaz.
In the german part you can access to the first offer "WASH & FOLD" for CHF 10.- per kg.; then "IRON & FOLD" for CHF 12.-; and "WASH, IRON & FOLD" for CHF 14.-.
5àsec advises you
Do your sums! The water and electricity costs and the time needed …
You no longer save money by doing it yourself! Entrust us with this chore - you have everything to gain!